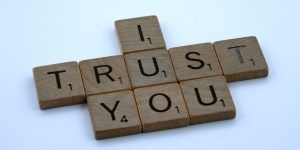 Trust as the foundation for a new way of leading
"Trust is good, but control is better" is a well-known quote.
However, although there has to be "checks and balances", control is not only costly and ineffective, it's also extremely damaging to employee satisfaction and performance, as studies show that high-trust organisations significantly outperform low trust organisations (on both employee well-being and company results).
But, the new ways of working and organising are not without challenges, and require stronger leadership, governance, and processes – and different competencies.
The leader should be a mentor and resource to help solve the problem (or develop the solution), taking the helicopter perspective, and being a source of inspiration and safe base (promoting psychological safety and give a sense of belonging).
Therefore, we propose 3 ways of addressing the universal needs for autonomy, competence, relatedness, and trust (in today's hybrid and complex way of working) by:
Training your leaders so they become better at problem solving, mentoring, asking the right questions, co-creating, cross-functionally collaborating, setting clearer goals, and leading in ambiguity.
• Upskilling your core knowledge workers by training them in the competencies they need (such as self-leadership, personal effectiveness, business acumen, innovation and emotional intelligence) so they feel more empowered, motivated, and less stressed, and can tackle the complex assignments they are handed.
• Embedding values such as trust, customer orientation, innovation, etc. better in the company culture and norms – for example by improving the employees' trust & collaboration skills, promoting a shared mindset, speaking a common "language", and by clearly defining, training and role modelling the desired behaviours.
Read the full article here: Trust as the foundation of a new way of leading